Inns of Nova Scotia - Perfect for your East Coast Vacation
The Inns of Nova Scotia offer guests a "unique" personal visitor experience. There is something about our inns that stands apart from the rest of the crowd: we take our warm hospitality seriously. This is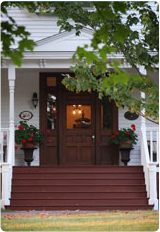 what forms the character of our innkeepers, and is reflected in the quality establishments we operate, from the cozy and comfortable corners of our historically interesting properties, to the smiling faces of the people in the small communities into which our lives are woven. Communities where the local grocer, or the postmaster, or the person passing on the street will greet and welcome you as if you lived there all your life.

Explore Nova Scotia, from Cape Breton and the Cabot Trail, to Metro Halifax and Peggy's Cove, the amazing tides and fossils of Bay of Fundy, the rugged wilderness and windswept headlands of the Eastern Shore, the agricultural heartland and wineries of the Annapolis Valley, to the lighthouses and Acadian culture of Southwest Nova Scotia.

Nova Scotia is renowed for culinary excellence. Our fresh local seafood and produce will tantalize the most discriminating of appetites, and our growing wine industry, craft breweries and distilleries compliment the fish and agricultural resources for a complete culinary experience.

Each of our quality assured member inns offer guests a unique experience with gracious hospitality, elegant accommodations. Our inns offer the perfect venue for weddings, receptions, business and corporate events or meetings. All our innkeepers are keen to help make your stay as busy or relaxed as you desire.

Come experience traditional Nova Scotia hospitality as only our Inns of Nova Scotia innkeepers and their small communities can provide. Your room awaits! Consider booking your entire trip with our members. We look forward to providing you with lasting memories and dreams of returning soon to Nova Scotia.